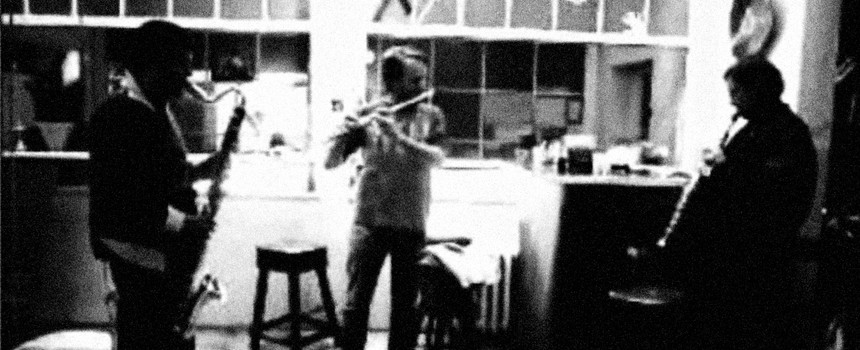 Dbo
Bjørnar Habbestad • flutes
Dirk Bruinsma • saxophones
Oguz Buyukberber • bass clarinet
DBO is a wind ensemble working on the border of psycoacoustics, improvisation and composition. DBO is part of the N Collective, an international network of musicians, composers and improvisers throughout Europe.
Their project - trying to combine the physical effects of extreme registers with extended playing techniques - has been characterized as "very intense playing, where music becomes a seemingly static universe of slowly circling sounds and ambiences; virtuosity becomes pure sound as sonic bursts of notes hit all registers at all times."
Bjørnar Habbestad (b. 1976) is a flutist, educated in Bergen, London and Amsterdam. He works as a chamber musician in Polygon, improviser in Lemur, noisemaker in Rehab, ensemble player in N Ensemble, sound artist in Habbestad&Larsson and electroacustician in USA/USB. Habbestad has performed on most Norwegian stages and festivals for contemporary music. He has also done extended touring in Scandinavia, Europe, Asia and USA. Habbestad founded the N Collective in 2003 and currently runs N Ensemble, the collective's ensemble-alter-ego. He is also co-curator of the Bergen-based sound gallery Lydgalleriet.
Oguz Buyukberber (Kayseri 1970) is a clarinetist fusing contemporary western classical music, Turkish music and jazz idioms. After receiving his BA in design from Mimar Sinan University of Fine arts and Architecture, he studied Bass Clarinet with Harry Sparnaay at Conservatorium van Amsterdam. He has performed in many of the festivals all over europe such as, Nothsea Jazz, London Jazz, Transmediale, Traumzeit, Talos Jazz, Spazio Musica, Rocella Jazz, Borealis, Numusic, Akbank Jazz, Istanbul Jaz Festival, Gaudeamus and Sonic Acts.
Dirk Bruinsma has been active as a musician since the early eighties, playing in groups such as Sumbur ten/five, The Palinckx octet, Otolithen and Positive Nuns. With his own group Blast he has been playing since 1989 - touring Europe, USA, Canada and Japan as a result. Composing music for most of the groups he's playing in, his work also involves pieces for contemporary music performers; opera, pieces for small ensembles and solo works have been played over the years. He also wrote music for film, dance, theatre and multi-media productions. As improvising musician involved in projects with people like Evan Parker, Barry Guy, Fred Frith, Elliott Sharp, Tim Hodgkingson, Gunther Sommers, Martin Schutz, Axel Dörner, Jaap Blonk, Saadet Türkoz and others.

bjornar (AT) bek (DOT) no